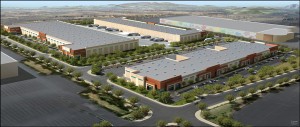 RGDC is developing a 21.5-acre finished industrial site it acquired in the Tucson Airport Commerce Center, located between I-10 and I-19 near Tucson International Airport. Three industrial buildings are planned, totaling 411,664 rentable square feet.
RGDC completed the first of its three distribution buildings in May 2009 — a 113,000-square-foot speculative distribution building.
Towne Air Freight signed a lease in October 2009, becoming the first tenant in the new building. Towne consolidated its two existing Tucson locations into the new building, which serves as a bonded warehouse.
Safelite Auto Glass opens its vehicle glass repair and replacement facility and warehouse in early 2012.
Remaining space available totals 62,524 square feet, which can be divided into two suites of 23,462 and 39,062 square feet.
The concrete building earned LEED silver certification and is the first Tucson industrial building to be LEED certified. It has 30' clear height, ESFR sprinklers, and more than ample parking and truck court areas.
Arizona's second-largest city, Tucson is 65 miles from the Mexican border, a primary gateway for trade between the US and Mexico.
The property is leased and managed by Cushman & Wakefield | PICOR. For more information, contact:
Cushman & Wakefield | PICOR
1100 N. Wilmot, Suite 200
Tucson, AZ 85712
520.748.7100
[email protected]
Peter Douglas, SIOR
Rob Glaser, SIOR CCIM
Mark Singerman
Regional Director, Development
Rockefeller Group Development Corporation
2375 E. Camelback Rd, Suite 500
Phoenix, AZ 85016
602-387-5328
[email protected]